Programming Assignment 2: Visualize Network Data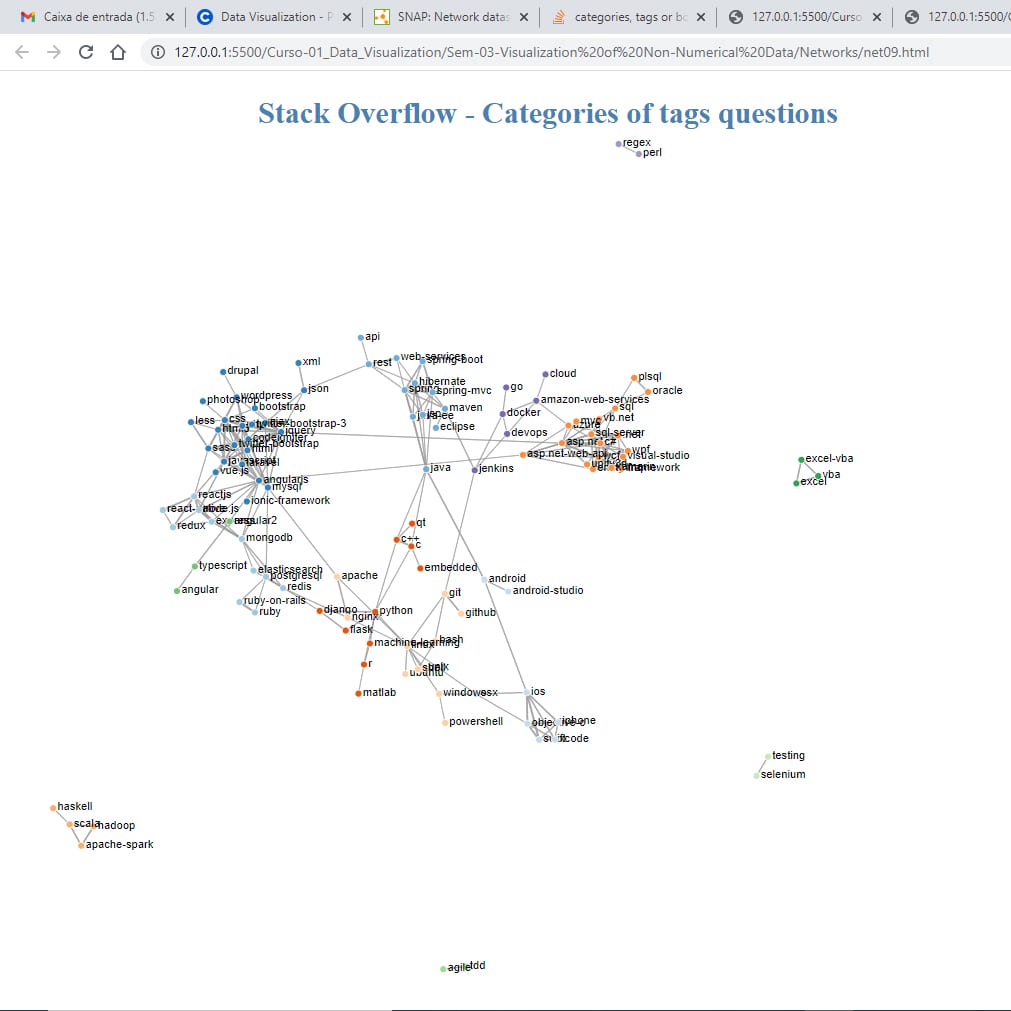 What is the dataset that I chose? Why?
I chose to analyze the "Stack Overflow dataset" containing the different kind of tags that people are interested in and make questions in Stack Overflow website.
I found it interesting to know which kind of doubts people have.
Did you use a subset of the data? If so, what was it?
No, I used the whole available dataset. "stackoverflow.json"
Are there any particular aspects of your visualization to which you would like to bring attention?
I found interesting the different nucleus that we can see in the diagram:
1. Blue color – Tag related with internet like: css, javascript, mysql, bootstarp etc;
2.

Orange color

– Tags related with microsoft like asp, visual-studio, vb net etc;
3. light blue – tags related to IOS
4.red-orange – Tags related to Languages: C++, C, Python, Java
What do you think the data and your visualization show?
It shows the type of information people are searching and how they are related to each other.
The diagram:
I prepared this network diagram programming d3.v4
My d3 program
<!DOCTYPE html>
<meta charset="utf-8″>
<head>
    <style>
        .links line {
        stroke: #999;
        stroke-opacity: 0.6;
        }
        .nodes circle {
        stroke: #fff;
        stroke-width: 1.1px;
        }
        text {
        font-family: sans-serif;
        font-size: 16px;
        }
    </style>
    <!– Load d3.js –>
    <script src="https://d3js.org/d3.v4.js" charset="utf-8″></script>
    <script>
        document.addEventListener('DOMContentLoaded', function(){
            // 1. set the dimensions and margins of the graph
            var margin = {top: 10, right: 30, bottom: 30, left: 40},
                width = 1200 – margin.left – margin.right,
                height = 1200 – margin.top – margin.bottom;
            // append the svg object to the body of the page
            var svg = d3.select("#graph")
                        .append("svg")
                        .attr("width", width + margin.left + margin.right)
                        .attr("height", height + margin.top + margin.bottom)
                        .append("g")
                        .attr("transform", "translate( 300,500)")
                        .attr("transform", "scale( 0.7,0.7)");
            // define color category
            var color = d3.scaleOrdinal(d3.schemeCategory20c);
            var simulation = d3.forceSimulation()
                        .force("link", d3.forceLink().id(function(d) { return d.id; }))
                        .force("charge", d3.forceManyBody())
                        .force("center", d3.forceCenter(width / 2, height / 2));
            d3.json("stackoverflow.json", function(error, graph) {
                if (error) throw error;
                var link = svg.append("g")
                            .attr("class", "links")
                            .selectAll("line")
                            .data(graph.links)
                            .enter().append("line")
                            .attr("stroke-width", function(d) { return 0.3*Math.sqrt(d.value); });
                var node = svg.append("g")
                            .attr("class", "nodes")
                            .selectAll("g")
                            .data(graph.nodes)
                            .enter().append("g")
                var circles = node.append("circle")
                            .attr("r", 5)
                            .attr("fill", function(d) { return color(d.group); })
                            .call(d3.drag()
                                .on("start", dragstarted)
                                .on("drag", dragged)
                                .on("end", dragended));
                var lables = node.append("text")
                                .text(function(d) {
                                  return d.id;
                                })
                                .attr('x', 6)
                                .attr('y', 3);
                node.append("title")
                    .text(function(d) { return d.id; });
                simulation
                    .nodes(graph.nodes)
                    .on("tick", ticked);
                simulation.force("link")
                    .links(graph.links)
                    .linkDistance(5);
                function ticked() {
                    link
                        .attr("x1", function(d) { return d.source.x; })
                        .attr("y1", function(d) { return d.source.y; })
                        .attr("x2", function(d) { return d.target.x; })
                        .attr("y2", function(d) { return d.target.y; });
                    node
                        .attr("transform", function(d) {
                            return "translate(" + d.x + "," + d.y + ")";
                        })
                }
                function dragstarted(d) {
                    if (!d3.event.active) simulation.alphaTarget(0.3).restart();
                    d.fx = d.x;
                    d.fy = d.y;
                }
                function dragged(d) {
                    d.fx = 0.3 * d3.event.x;
                    d.fy = 0.3 * d3.event.y;
                }
                function dragended(d) {
                    if (!d3.event.active) simulation.alphaTarget(0);
                    d.fx = null;
                    d.fy = null;
                }
                // Add Title
                svg.append("text")
                    .attr("text-anchor", "end")
                    .attr("x", width)
                    .attr("y", height)
                    .text("A")
                    .style("font-size", "100")
                    .style("text-align", center);
                // Add Title
                svg.append("text")
                    .attr("text-anchor", "end")
                    .attr("x", width – 180)
                    .attr("y", 150)
                    .text("showing character co-occurence in Les Misérables")
                    .style("font-size", "24");
            });
        });  // end DOMContentLoaded
    </script>
</head>
<body>
    <!– Create a div where the graph will take place –>
    <div style="margin: 0px auto auto 250px; color: steelblue; font-size: 20px; z-index:3;"><h2>Stack Overflow – Categories of tags questions</h2></div>
    <div id="graph" style="z-index:1; margin-top:-40px"></div>
</body>
Data obtained from:
https://github.com/incubated-geek-cc/tableau-data-utility/blob/master/public/data/stackoverflow.json
The dataset
{
"nodes": [
{
"id": "html",
"group": 6,
"nodesize": 272.45
},
{
"id": "css",
"group": 6,
"nodesize": 341.17
},
{
"id": "hibernate",
"group": 8,
"nodesize": 29.83
},
{
"id": "spring",
"group": 8,
"nodesize": 52.84
},
{
"id": "ruby",
"group": 3,
"nodesize": 70.14
},
{
"id": "ruby-on-rails",
"group": 3,
"nodesize": 55.31
},
{
"id": "ios",
"group": 4,
"nodesize": 87.46
},
{
"id": "swift",
"group": 4,
"nodesize": 63.62
},
{
"id": "html5",
"group": 6,
"nodesize": 140.18
},
{
"id": "c",
"group": 1,
"nodesize": 189.83
},
{
"id": "c++",
"group": 1,
"nodesize": 268.11
},
{
"id": "asp.net",
"group": 2,
"nodesize": 129.55
},
{
"id": "c#",
"group": 2,
"nodesize": 321.13
},
{
"id": "objective-c",
"group": 4,
"nodesize": 47.01
},
{
"id": "javascript",
"group": 6,
"nodesize": 649.16
},
{
"id": "jquery",
"group": 6,
"nodesize": 208.29
},
{
"id": "redux",
"group": 3,
"nodesize": 8.52
},
{
"id": "reactjs",
"group": 3,
"nodesize": 59.03
},
{
"id": "php",
"group": 6,
"nodesize": 361.22
},
{
"id": "mysql",
"group": 6,
"nodesize": 165.43
},
{
"id": "spring-mvc",
"group": 8,
"nodesize": 18
},
{
"id": ".net",
"group": 2,
"nodesize": 75.08
},
{
"id": "react-native",
"group": 3,
"nodesize": 13.61
},
{
"id": "spring-boot",
"group": 8,
"nodesize": 12.37
},
{
"id": "less",
"group": 6,
"nodesize": 9.73
},
{
"id": "sass",
"group": 6,
"nodesize": 30.55
},
{
"id": "hadoop",
"group": 10,
"nodesize": 17.95
},
{
"id": "apache-spark",
"group": 10,
"nodesize": 11.04
},
{
"id": "sql-server",
"group": 2,
"nodesize": 64.62
},
{
"id": "express",
"group": 3,
"nodesize": 14.27
},
{
"id": "node.js",
"group": 3,
"nodesize": 117.36
},
{
"id": "mongodb",
"group": 3,
"nodesize": 50.95
},
{
"id": "iphone",
"group": 4,
"nodesize": 15.29
},
{
"id": "github",
"group": 5,
"nodesize": 12.71
},
{
"id": "git",
"group": 5,
"nodesize": 54.48
},
{
"id": "excel",
"group": 14,
"nodesize": 12.5
},
{
"id": "excel-vba",
"group": 14,
"nodesize": 11.38
},
{
"id": "entity-framework",
"group": 2,
"nodesize": 12.88
},
{
"id": "linq",
"group": 2,
"nodesize": 8.32
},
{
"id": "wcf",
"group": 2,
"nodesize": 12.73
},
{
"id": "wpf",
"group": 2,
"nodesize": 19.38
},
{
"id": "android",
"group": 4,
"nodesize": 229.86
},
{
"id": "java",
"group": 8,
"nodesize": 610.65
},
{
"id": "scala",
"group": 10,
"nodesize": 27.02
},
{
"id": "ajax",
"group": 6,
"nodesize": 35.41
},
{
"id": "django",
"group": 1,
"nodesize": 40.91
},
{
"id": "python",
"group": 1,
"nodesize": 438.67
},
{
"id": "vba",
"group": 14,
"nodesize": 16.87
},
{
"id": "xcode",
"group": 4,
"nodesize": 11.37
},
{
"id": "apache",
"group": 5,
"nodesize": 13.17
},
{
"id": "nginx",
"group": 5,
"nodesize": 9.49
},
{
"id": "angularjs",
"group": 6,
"nodesize": 126.59
},
{
"id": "asp.net-web-api",
"group": 2,
"nodesize": 11.28
},
{
"id": "laravel",
"group": 6,
"nodesize": 32.12
},
{
"id": "plsql",
"group": 2,
"nodesize": 10.32
},
{
"id": "oracle",
"group": 2,
"nodesize": 30.19
},
{
"id": "json",
"group": 6,
"nodesize": 25.38
},
{
"id": "xml",
"group": 6,
"nodesize": 23.77
},
{
"id": "flask",
"group": 1,
"nodesize": 9.39
},
{
"id": "wordpress",
"group": 6,
"nodesize": 46.74
},
{
"id": "java-ee",
"group": 8,
"nodesize": 22.45
},
{
"id": "maven",
"group": 8,
"nodesize": 10.3
},
{
"id": "jsp",
"group": 8,
"nodesize": 13.78
},
{
"id": "bash",
"group": 5,
"nodesize": 23.91
},
{
"id": "linux",
"group": 5,
"nodesize": 108.54
},
{
"id": "angular2",
"group": 7,
"nodesize": 18.79
},
{
"id": "typescript",
"group": 7,
"nodesize": 17.53
},
{
"id": "codeigniter",
"group": 6,
"nodesize": 18.71
},
{
"id": "tdd",
"group": 12,
"nodesize": 9.45
},
{
"id": "agile",
"group": 12,
"nodesize": 12.22
},
{
"id": "twitter-bootstrap",
"group": 6,
"nodesize": 31.05
},
{
"id": "web-services",
"group": 8,
"nodesize": 18.94
},
{
"id": "rest",
"group": 8,
"nodesize": 27.08
},
{
"id": "testing",
"group": 11,
"nodesize": 8.95
},
{
"id": "selenium",
"group": 11,
"nodesize": 12.7
},
{
"id": "android-studio",
"group": 4,
"nodesize": 14.79
},
{
"id": "redis",
"group": 3,
"nodesize": 13.85
},
{
"id": "jenkins",
"group": 9,
"nodesize": 10.02
},
{
"id": "docker",
"group": 9,
"nodesize": 22.85
},
{
"id": "amazon-web-services",
"group": 9,
"nodesize": 30.05
},
{
"id": "angular",
"group": 7,
"nodesize": 29.09
},
{
"id": "osx",
"group": 4,
"nodesize": 12.58
},
{
"id": "machine-learning",
"group": 1,
"nodesize": 44.21
},
{
"id": "qt",
"group": 1,
"nodesize": 10.53
},
{
"id": "windows",
"group": 5,
"nodesize": 19.71
},
{
"id": "ubuntu",
"group": 5,
"nodesize": 11.98
},
{
"id": "ionic-framework",
"group": 6,
"nodesize": 8.44
},
{
"id": "elasticsearch",
"group": 3,
"nodesize": 10.82
},
{
"id": "vue.js",
"group": 6,
"nodesize": 8.38
},
{
"id": "r",
"group": 1,
"nodesize": 52.7
},
{
"id": "embedded",
"group": 1,
"nodesize": 13.27
},
{
"id": "go",
"group": 9,
"nodesize": 24.84
},
{
"id": "visual-studio",
"group": 2,
"nodesize": 18.13
},
{
"id": "postgresql",
"group": 3,
"nodesize": 39.03
},
{
"id": "sql",
"group": 2,
"nodesize": 154.23
},
{
"id": "unix",
"group": 5,
"nodesize": 15.67
},
{
"id": "eclipse",
"group": 8,
"nodesize": 11.39
},
{
"id": "vb.net",
"group": 2,
"nodesize": 23.56
},
{
"id": "unity3d",
"group": 2,
"nodesize": 19.36
},
{
"id": "devops",
"group": 9,
"nodesize": 9.81
},
{
"id": "drupal",
"group": 6,
"nodesize": 8.25
},
{
"id": "shell",
"group": 5,
"nodesize": 11.63
},
{
"id": "bootstrap",
"group": 6,
"nodesize": 13.28
},
{
"id": "xamarin",
"group": 2,
"nodesize": 11.18
},
{
"id": "azure",
"group": 2,
"nodesize": 13.68
},
{
"id": "mvc",
"group": 2,
"nodesize": 10.92
},
{
"id": "haskell",
"group": 10,
"nodesize": 11.18
},
{
"id": "api",
"group": 8,
"nodesize": 8.61
},
{
"id": "twitter-bootstrap-3",
"group": 6,
"nodesize": 10.13
},
{
"id": "regex",
"group": 13,
"nodesize": 9.46
},
{
"id": "perl",
"group": 13,
"nodesize": 19.38
},
{
"id": "cloud",
"group": 9,
"nodesize": 10.66
},
{
"id": "photoshop",
"group": 6,
"nodesize": 12.62
},
{
"id": "powershell",
"group": 5,
"nodesize": 9.85
},
{
"id": "matlab",
"group": 1,
"nodesize": 27.21
}
],
"links": [
{
"source": "azure",
"target": ".net",
"value": 20.9331923466
},
{
"source": "sql-server",
"target": ".net",
"value": 32.3225242193
},
{
"source": "asp.net",
"target": ".net",
"value": 48.407029962
},
{
"source": "entity-framework",
"target": ".net",
"value": 24.3709025053
},
{
"source": "wpf",
"target": ".net",
"value": 32.3509252201
},
{
"source": "linq",
"target": ".net",
"value": 20.5017438581
},
{
"source": "wcf",
"target": ".net",
"value": 28.0744004276
},
{
"source": "c#",
"target": ".net",
"value": 62.1678950429
},
{
"source": "tdd",
"target": "agile",
"value": 37.1465899242
},
{
"source": "codeigniter",
"target": "ajax",
"value": 23.1919004057
},
{
"source": "jquery",
"target": "ajax",
"value": 50.5667286159
},
{
"source": "mysql",
"target": "ajax",
"value": 24.8000894229
},
{
"source": "css",
"target": "ajax",
"value": 26.6137137247
},
{
"source": "php",
"target": "ajax",
"value": 28.0106792566
},
{
"source": "javascript",
"target": "ajax",
"value": 24.3991444226
},
{
"source": "json",
"target": "ajax",
"value": 32.9474460109
},
{
"source": "cloud",
"target": "amazon-web-services",
"value": 21.3186067988
},
{
"source": "azure",
"target": "amazon-web-services",
"value": 21.3099495939
},
{
"source": "devops",
"target": "amazon-web-services",
"value": 24.983531201
},
{
"source": "docker",
"target": "amazon-web-services",
"value": 32.1980710141
},
{
"source": "ios",
"target": "android",
"value": 39.7780362257
},
{
"source": "android-studio",
"target": "android",
"value": 33.6610831763
},
{
"source": "java",
"target": "android",
"value": 50.9847307665
},
{
"source": "android",
"target": "android-studio",
"value": 33.6610831763
},
{
"source": "typescript",
"target": "angular",
"value": 31.0364817839
},
{
"source": "typescript",
"target": "angular2",
"value": 38.8799822292
},
{
"source": "angularjs",
"target": "angular2",
"value": 26.0326971645
},
{
"source": "ionic-framework",
"target": "angularjs",
"value": 29.8404457669
},
{
"source": "reactjs",
"target": "angularjs",
"value": 31.6202023047
},
{
"source": "mongodb",
"target": "angularjs",
"value": 31.5107111704
},
{
"source": "css",
"target": "angularjs",
"value": 22.2104130431
},
{
"source": "sass",
"target": "angularjs",
"value": 20.4258784167
},
{
"source": "twitter-bootstrap",
"target": "angularjs",
"value": 24.1536858611
},
{
"source": "javascript",
"target": "angularjs",
"value": 39.3766266623
},
{
"source": "express",
"target": "angularjs",
"value": 24.4338288053
},
{
"source": "node.js",
"target": "angularjs",
"value": 47.5635270253
},
{
"source": "jquery",
"target": "angularjs",
"value": 30.3479474335
},
{
"source": "asp.net-web-api",
"target": "angularjs",
"value": 20.1130996643
},
{
"source": "angular2",
"target": "angularjs",
"value": 26.0326971645
},
{
"source": "html5",
"target": "angularjs",
"value": 23.0826640208
},
{
"source": "nginx",
"target": "apache",
"value": 48.5831734641
},
{
"source": "mysql",
"target": "apache",
"value": 29.0978345477
},
{
"source": "linux",
"target": "apache",
"value": 28.1682130132
},
{
"source": "scala",
"target": "apache-spark",
"value": 50.7918456342
},
{
"source": "hadoop",
"target": "apache-spark",
"value": 59.8267855841
},
{
"source": "rest",
"target": "api",
"value": 22.1755891093
},
{
"source": ".net",
"target": "asp.net",
"value": 48.407029962
},
{
"source": "sql",
"target": "asp.net",
"value": 21.6722646057
},
{
"source": "sql-server",
"target": "asp.net",
"value": 59.6732894869
},
{
"source": "c#",
"target": "asp.net",
"value": 80.4485421721
},
{
"source": "asp.net-web-api",
"target": "asp.net",
"value": 47.3862721554
},
{
"source": "jquery",
"target": "asp.net",
"value": 28.7231782201
},
{
"source": "entity-framework",
"target": "asp.net",
"value": 48.1136690895
},
{
"source": "mvc",
"target": "asp.net",
"value": 22.828412163
},
{
"source": "azure",
"target": "asp.net",
"value": 23.7640729951
},
{
"source": "wpf",
"target": "asp.net",
"value": 28.1590233387
},
{
"source": "linq",
"target": "asp.net",
"value": 31.5812777462
},
{
"source": "wcf",
"target": "asp.net",
"value": 40.9514217261
},
{
"source": "vb.net",
"target": "asp.net",
"value": 23.7113462811
},
{
"source": "asp.net",
"target": "asp.net-web-api",
"value": 47.3862721554
},
{
"source": "azure",
"target": "asp.net-web-api",
"value": 21.5856947633
},
{
"source": "c#",
"target": "asp.net-web-api",
"value": 26.7488215483
},
{
"source": "angularjs",
"target": "asp.net-web-api",
"value": 20.1130996643
},
{
"source": "sql-server",
"target": "asp.net-web-api",
"value": 25.6764741822
},
{
"source": "wcf",
"target": "asp.net-web-api",
"value": 28.356535431
},
{
"source": "entity-framework",
"target": "asp.net-web-api",
"value": 31.1834950996
},
{
"source": ".net",
"target": "azure",
"value": 20.9331923466
},
{
"source": "c#",
"target": "azure",
"value": 22.1444870118
},
{
"source": "asp.net-web-api",
"target": "azure",
"value": 21.5856947633
},
{
"source": "asp.net",
"target": "azure",
"value": 23.7640729951
},
{
"source": "amazon-web-services",
"target": "azure",
"value": 21.3099495939
},
{
"source": "linux",
"target": "bash",
"value": 38.8881157503
},
{
"source": "shell",
"target": "bash",
"value": 24.7170655738
},
{
"source": "git",
"target": "bash",
"value": 27.09695713
},
{
"source": "jquery",
"target": "bootstrap",
"value": 22.406154649
},
{
"source": "css",
"target": "bootstrap",
"value": 24.7103126019
},
{
"source": "c++",
"target": "c",
"value": 80.8910461415
},
{
"source": "python",
"target": "c",
"value": 22.3204322539
},
{
"source": "embedded",
"target": "c",
"value": 28.4036477691
},
{
"source": "java",
"target": "c",
"value": 26.0494593041
},
{
"source": "linq",
"target": "c#",
"value": 25.2229316431
},
{
"source": "sql",
"target": "c#",
"value": 25.613903617
},
{
"source": "asp.net",
"target": "c#",
"value": 80.4485421721
},
{
"source": "asp.net-web-api",
"target": "c#",
"value": 26.7488215483
},
{
"source": "entity-framework",
"target": "c#",
"value": 30.7284255818
},
{
"source": "vb.net",
"target": "c#",
"value": 25.1851359563
},
{
"source": ".net",
"target": "c#",
"value": 62.1678950429
},
{
"source": "sql-server",
"target": "c#",
"value": 45.9146512355
},
{
"source": "xamarin",
"target": "c#",
"value": 24.6731475487
},
{
"source": "azure",
"target": "c#",
"value": 22.1444870118
},
{
"source": "wpf",
"target": "c#",
"value": 38.9574921757
},
{
"source": "unity3d",
"target": "c#",
"value": 25.0002334731
},
{
"source": "wcf",
"target": "c#",
"value": 29.2998800335
},
{
"source": "visual-studio",
"target": "c#",
"value": 27.7155434286
},
{
"source": "qt",
"target": "c++",
"value": 30.1446600326
},
{
"source": "c",
"target": "c++",
"value": 80.8910461415
},
{
"source": "java",
"target": "c++",
"value": 23.2010956583
},
{
"source": "python",
"target": "c++",
"value": 24.3010456662
},
{
"source": "amazon-web-services",
"target": "cloud",
"value": 21.3186067988
},
{
"source": "mysql",
"target": "codeigniter",
"value": 22.5968859293
},
{
"source": "jquery",
"target": "codeigniter",
"value": 26.7297713097
},
{
"source": "laravel",
"target": "codeigniter",
"value": 31.6587093175
},
{
"source": "php",
"target": "codeigniter",
"value": 37.4014964616
},
{
"source": "ajax",
"target": "codeigniter",
"value": 23.1919004057
},
{
"source": "wordpress",
"target": "codeigniter",
"value": 25.1331307657
},
{
"source": "ajax",
"target": "css",
"value": 26.6137137247
},
{
"source": "mysql",
"target": "css",
"value": 27.0106224894
},
{
"source": "photoshop",
"target": "css",
"value": 20.855721425
},
{
"source": "jquery",
"target": "css",
"value": 66.6742056998
},
{
"source": "html",
"target": "css",
"value": 126.5711271297
},
{
"source": "javascript",
"target": "css",
"value": 75.5366000961
},
{
"source": "html5",
"target": "css",
"value": 87.1382698616
},
{
"source": "bootstrap",
"target": "css",
"value": 24.7103126019
},
{
"source": "twitter-bootstrap",
"target": "css",
"value": 31.5640551026
},
{
"source": "less",
"target": "css",
"value": 25.3405353245
},
{
"source": "wordpress",
"target": "css",
"value": 31.2648246688
},
{
"source": "angularjs",
"target": "css",
"value": 22.2104130431
},
{
"source": "sass",
"target": "css",
"value": 40.9633612655
},
{
"source": "php",
"target": "css",
"value": 51.4476049091
},
{
"source": "amazon-web-services",
"target": "devops",
"value": 24.983531201
},
{
"source": "docker",
"target": "devops",
"value": 24.5542028177
},
{
"source": "jenkins",
"target": "devops",
"value": 23.6025876075
},
{
"source": "python",
"target": "django",
"value": 49.9059429537
},
{
"source": "flask",
"target": "django",
"value": 42.3366431399
},
{
"source": "postgresql",
"target": "django",
"value": 22.4892526432
},
{
"source": "amazon-web-services",
"target": "docker",
"value": 32.1980710141
},
{
"source": "go",
"target": "docker",
"value": 28.3754059073
},
{
"source": "devops",
"target": "docker",
"value": 24.5542028177
},
{
"source": "jenkins",
"target": "docker",
"value": 26.5286075998
},
{
"source": "wordpress",
"target": "drupal",
"value": 24.9192961822
},
{
"source": "maven",
"target": "eclipse",
"value": 25.3146594538
},
{
"source": "redis",
"target": "elasticsearch",
"value": 29.3490986761
},
{
"source": "mongodb",
"target": "elasticsearch",
"value": 20.2280068555
},
{
"source": "c",
"target": "embedded",
"value": 28.4036477691
},
{
"source": ".net",
"target": "entity-framework",
"value": 24.3709025053
},
{
"source": "wpf",
"target": "entity-framework",
"value": 24.2282018567
},
{
"source": "asp.net",
"target": "entity-framework",
"value": 48.1136690895
},
{
"source": "sql-server",
"target": "entity-framework",
"value": 32.6237790869
},
{
"source": "linq",
"target": "entity-framework",
"value": 54.0059295601
},
{
"source": "wcf",
"target": "entity-framework",
"value": 32.8159516504
},
{
"source": "asp.net-web-api",
"target": "entity-framework",
"value": 31.1834950996
},
{
"source": "c#",
"target": "entity-framework",
"value": 30.7284255818
},
{
"source": "vba",
"target": "excel",
"value": 45.260749883
},
{
"source": "excel-vba",
"target": "excel",
"value": 54.5052356263
},
{
"source": "vba",
"target": "excel-vba",
"value": 49.6162172783
},
{
"source": "excel",
"target": "excel-vba",
"value": 54.5052356263
},
{
"source": "reactjs",
"target": "express",
"value": 31.924272589
},
{
"source": "redux",
"target": "express",
"value": 21.5434584177
},
{
"source": "angularjs",
"target": "express",
"value": 24.4338288053
},
{
"source": "node.js",
"target": "express",
"value": 58.829076623
},
{
"source": "mongodb",
"target": "express",
"value": 48.7680608118
},
{
"source": "python",
"target": "flask",
"value": 25.2513718614
},
{
"source": "django",
"target": "flask",
"value": 42.3366431399
},
{
"source": "jenkins",
"target": "git",
"value": 23.075440146
},
{
"source": "github",
"target": "git",
"value": 56.2024639173
},
{
"source": "bash",
"target": "git",
"value": 27.09695713
},
{
"source": "linux",
"target": "git",
"value": 27.7087927747
},
{
"source": "git",
"target": "github",
"value": 56.2024639173
},
{
"source": "docker",
"target": "go",
"value": 28.3754059073
},
{
"source": "scala",
"target": "hadoop",
"value": 21.6259344622
},
{
"source": "apache-spark",
"target": "hadoop",
"value": 59.8267855841
},
{
"source": "scala",
"target": "haskell",
"value": 22.7574400098
},
{
"source": "jsp",
"target": "hibernate",
"value": 39.4069459855
},
{
"source": "java",
"target": "hibernate",
"value": 32.5235651045
},
{
"source": "spring-boot",
"target": "hibernate",
"value": 30.2329037064
},
{
"source": "maven",
"target": "hibernate",
"value": 34.1000520248
},
{
"source": "rest",
"target": "hibernate",
"value": 21.6466678778
},
{
"source": "web-services",
"target": "hibernate",
"value": 21.2109569252
},
{
"source": "spring-mvc",
"target": "hibernate",
"value": 64.1098982131
},
{
"source": "java-ee",
"target": "hibernate",
"value": 39.9081737855
},
{
"source": "spring",
"target": "hibernate",
"value": 103.2682844636
},
{
"source": "mysql",
"target": "html",
"value": 21.3556888902
},
{
"source": "javascript",
"target": "html",
"value": 59.7554888405
},
{
"source": "php",
"target": "html",
"value": 45.6610408797
},
{
"source": "css",
"target": "html",
"value": 126.5711271297
},
{
"source": "sass",
"target": "html",
"value": 23.6395292355
},
{
"source": "jquery",
"target": "html",
"value": 44.2336202302
},
{
"source": "php",
"target": "html5",
"value": 32.3505069192
},
{
"source": "wordpress",
"target": "html5",
"value": 22.216440754
},
{
"source": "javascript",
"target": "html5",
"value": 47.0063637571
},
{
"source": "angularjs",
"target": "html5",
"value": 23.0826640208
},
{
"source": "less",
"target": "html5",
"value": 20.9231876683
},
{
"source": "twitter-bootstrap-3",
"target": "html5",
"value": 22.1610364135
},
{
"source": "jquery",
"target": "html5",
"value": 47.4927733889
},
{
"source": "css",
"target": "html5",
"value": 87.1382698616
},
{
"source": "twitter-bootstrap",
"target": "html5",
"value": 26.2309833744
},
{
"source": "sass",
"target": "html5",
"value": 32.0703766561
},
{
"source": "angularjs",
"target": "ionic-framework",
"value": 29.8404457669
},
{
"source": "android",
"target": "ios",
"value": 39.7780362257
},
{
"source": "swift",
"target": "ios",
"value": 87.219642461
},
{
"source": "osx",
"target": "ios",
"value": 30.3415810719
},
{
"source": "objective-c",
"target": "ios",
"value": 78.7592804665
},
{
"source": "iphone",
"target": "ios",
"value": 57.1585740562
},
{
"source": "xcode",
"target": "ios",
"value": 46.3650907739
},
{
"source": "swift",
"target": "iphone",
"value": 36.0233746732
},
{
"source": "xcode",
"target": "iphone",
"value": 34.7128650712
},
{
"source": "ios",
"target": "iphone",
"value": 57.1585740562
},
{
"source": "objective-c",
"target": "iphone",
"value": 47.9778876038
},
{
"source": "spring",
"target": "java",
"value": 43.9542592253
},
{
"source": "c++",
"target": "java",
"value": 23.2010956583
},
{
"source": "jsp",
"target": "java",
"value": 21.6198030353
},
{
"source": "java-ee",
"target": "java",
"value": 25.1161828205
},
{
"source": "android",
"target": "java",
"value": 50.9847307665
},
{
"source": "hibernate",
"target": "java",
"value": 32.5235651045
},
{
"source": "c",
"target": "java",
"value": 26.0494593041
},
{
"source": "spring-mvc",
"target": "java",
"value": 25.0412148108
},
{
"source": "spring",
"target": "java-ee",
"value": 39.8121051485
},
{
"source": "hibernate",
"target": "java-ee",
"value": 39.9081737855
},
{
"source": "spring-mvc",
"target": "java-ee",
"value": 27.9645918526
},
{
"source": "java",
"target": "java-ee",
"value": 25.1161828205
},
{
"source": "jquery",
"target": "javascript",
"value": 57.8418315264
},
{
"source": "twitter-bootstrap",
"target": "javascript",
"value": 20.2388230437
},
{
"source": "node.js",
"target": "javascript",
"value": 42.7317293231
},
{
"source": "mysql",
"target": "javascript",
"value": 22.9161907165
},
{
"source": "angularjs",
"target": "javascript",
"value": 39.3766266623
},
{
"source": "php",
"target": "javascript",
"value": 47.3281575556
},
{
"source": "ajax",
"target": "javascript",
"value": 24.3991444226
},
{
"source": "reactjs",
"target": "javascript",
"value": 33.5673591049
},
{
"source": "css",
"target": "javascript",
"value": 75.5366000961
},
{
"source": "html",
"target": "javascript",
"value": 59.7554888405
},
{
"source": "sass",
"target": "javascript",
"value": 23.7824698837
},
{
"source": "html5",
"target": "javascript",
"value": 47.0063637571
},
{
"source": "git",
"target": "jenkins",
"value": 23.075440146
},
{
"source": "devops",
"target": "jenkins",
"value": 23.6025876075
},
{
"source": "maven",
"target": "jenkins",
"value": 33.4770807791
},
{
"source": "docker",
"target": "jenkins",
"value": 26.5286075998
},
{
"source": "json",
"target": "jquery",
"value": 20.6295773409
},
{
"source": "html",
"target": "jquery",
"value": 44.2336202302
},
{
"source": "wordpress",
"target": "jquery",
"value": 28.8701705999
},
{
"source": "sass",
"target": "jquery",
"value": 24.6817281322
},
{
"source": "asp.net",
"target": "jquery",
"value": 28.7231782201
},
{
"source": "php",
"target": "jquery",
"value": 46.6190908982
},
{
"source": "css",
"target": "jquery",
"value": 66.6742056998
},
{
"source": "html5",
"target": "jquery",
"value": 47.4927733889
},
{
"source": "ajax",
"target": "jquery",
"value": 50.5667286159
},
{
"source": "twitter-bootstrap",
"target": "jquery",
"value": 36.7919254982
},
{
"source": "mysql",
"target": "jquery",
"value": 35.7129778111
},
{
"source": "angularjs",
"target": "jquery",
"value": 30.3479474335
},
{
"source": "twitter-bootstrap-3",
"target": "jquery",
"value": 21.1532432493
},
{
"source": "javascript",
"target": "jquery",
"value": 57.8418315264
},
{
"source": "codeigniter",
"target": "jquery",
"value": 26.7297713097
},
{
"source": "bootstrap",
"target": "jquery",
"value": 22.406154649
},
{
"source": "rest",
"target": "json",
"value": 25.0494983961
},
{
"source": "jquery",
"target": "json",
"value": 20.6295773409
},
{
"source": "xml",
"target": "json",
"value": 42.7216684588
},
{
"source": "ajax",
"target": "json",
"value": 32.9474460109
},
{
"source": "hibernate",
"target": "jsp",
"value": 39.4069459855
},
{
"source": "java",
"target": "jsp",
"value": 21.6198030353
},
{
"source": "spring-mvc",
"target": "jsp",
"value": 24.0644902519
},
{
"source": "spring",
"target": "jsp",
"value": 30.6133398512
},
{
"source": "vue.js",
"target": "laravel",
"value": 28.799896655
},
{
"source": "php",
"target": "laravel",
"value": 45.8847332102
},
{
"source": "mysql",
"target": "laravel",
"value": 20.2302660543
},
{
"source": "codeigniter",
"target": "laravel",
"value": 31.6587093175
},
{
"source": "sass",
"target": "less",
"value": 60.545941128
},
{
"source": "css",
"target": "less",
"value": 25.3405353245
},
{
"source": "html5",
"target": "less",
"value": 20.9231876683
},
{
"source": "wcf",
"target": "linq",
"value": 34.5870926587
},
{
"source": "sql-server",
"target": "linq",
"value": 20.4447921117
},
{
"source": "c#",
"target": "linq",
"value": 25.2229316431
},
{
"source": "asp.net",
"target": "linq",
"value": 31.5812777462
},
{
"source": "entity-framework",
"target": "linq",
"value": 54.0059295601
},
{
"source": ".net",
"target": "linq",
"value": 20.5017438581
},
{
"source": "wpf",
"target": "linq",
"value": 26.468391556
},
{
"source": "bash",
"target": "linux",
"value": 38.8881157503
},
{
"source": "git",
"target": "linux",
"value": 27.7087927747
},
{
"source": "unix",
"target": "linux",
"value": 25.3574128742
},
{
"source": "osx",
"target": "linux",
"value": 23.4128149397
},
{
"source": "ubuntu",
"target": "linux",
"value": 29.8943425853
},
{
"source": "shell",
"target": "linux",
"value": 21.1317929174
},
{
"source": "nginx",
"target": "linux",
"value": 21.0804784479
},
{
"source": "windows",
"target": "linux",
"value": 29.9454007738
},
{
"source": "python",
"target": "linux",
"value": 21.170360444
},
{
"source": "apache",
"target": "linux",
"value": 28.1682130132
},
{
"source": "python",
"target": "machine-learning",
"value": 30.2707743674
},
{
"source": "r",
"target": "machine-learning",
"value": 23.2186970397
},
{
"source": "r",
"target": "matlab",
"value": 20.0219326983
},
{
"source": "spring-mvc",
"target": "maven",
"value": 24.9338022599
},
{
"source": "jenkins",
"target": "maven",
"value": 33.4770807791
},
{
"source": "eclipse",
"target": "maven",
"value": 25.3146594538
},
{
"source": "spring",
"target": "maven",
"value": 39.5302298409
},
{
"source": "hibernate",
"target": "maven",
"value": 34.1000520248
},
{
"source": "express",
"target": "mongodb",
"value": 48.7680608118
},
{
"source": "node.js",
"target": "mongodb",
"value": 58.6578066122
},
{
"source": "reactjs",
"target": "mongodb",
"value": 22.3209731893
},
{
"source": "postgresql",
"target": "mongodb",
"value": 22.8555570003
},
{
"source": "mysql",
"target": "mongodb",
"value": 26.3692647616
},
{
"source": "redis",
"target": "mongodb",
"value": 33.5547311288
},
{
"source": "elasticsearch",
"target": "mongodb",
"value": 20.2280068555
},
{
"source": "angularjs",
"target": "mongodb",
"value": 31.5107111704
},
{
"source": "asp.net",
"target": "mvc",
"value": 22.828412163
},
{
"source": "css",
"target": "mysql",
"value": 27.0106224894
},
{
"source": "jquery",
"target": "mysql",
"value": 35.7129778111
},
{
"source": "mongodb",
"target": "mysql",
"value": 26.3692647616
},
{
"source": "laravel",
"target": "mysql",
"value": 20.2302660543
},
{
"source": "php",
"target": "mysql",
"value": 65.0702591241
},
{
"source": "postgresql",
"target": "mysql",
"value": 25.9099424888
},
{
"source": "javascript",
"target": "mysql",
"value": 22.9161907165
},
{
"source": "html",
"target": "mysql",
"value": 21.3556888902
},
{
"source": "ajax",
"target": "mysql",
"value": 24.8000894229
},
{
"source": "apache",
"target": "mysql",
"value": 29.0978345477
},
{
"source": "codeigniter",
"target": "mysql",
"value": 22.5968859293
},
{
"source": "linux",
"target": "nginx",
"value": 21.0804784479
},
{
"source": "redis",
"target": "nginx",
"value": 27.4731414069
},
{
"source": "apache",
"target": "nginx",
"value": 48.5831734641
},
{
"source": "javascript",
"target": "node.js",
"value": 42.7317293231
},
{
"source": "reactjs",
"target": "node.js",
"value": 55.192747552
},
{
"source": "express",
"target": "node.js",
"value": 58.829076623
},
{
"source": "angularjs",
"target": "node.js",
"value": 47.5635270253
},
{
"source": "mongodb",
"target": "node.js",
"value": 58.6578066122
},
{
"source": "react-native",
"target": "node.js",
"value": 22.1632503119
},
{
"source": "redux",
"target": "node.js",
"value": 23.4019232537
},
{
"source": "xcode",
"target": "objective-c",
"value": 43.4188251171
},
{
"source": "iphone",
"target": "objective-c",
"value": 47.9778876038
},
{
"source": "swift",
"target": "objective-c",
"value": 79.0885357792
},
{
"source": "ios",
"target": "objective-c",
"value": 78.7592804665
},
{
"source": "osx",
"target": "objective-c",
"value": 24.7631898292
},
{
"source": "sql",
"target": "oracle",
"value": 21.8276047647
},
{
"source": "plsql",
"target": "oracle",
"value": 45.0615143391
},
{
"source": "windows",
"target": "osx",
"value": 20.8602467765
},
{
"source": "objective-c",
"target": "osx",
"value": 24.7631898292
},
{
"source": "ios",
"target": "osx",
"value": 30.3415810719
},
{
"source": "linux",
"target": "osx",
"value": 23.4128149397
},
{
"source": "regex",
"target": "perl",
"value": 21.3640778862
},
{
"source": "css",
"target": "photoshop",
"value": 20.855721425
},
{
"source": "css",
"target": "php",
"value": 51.4476049091
},
{
"source": "laravel",
"target": "php",
"value": 45.8847332102
},
{
"source": "wordpress",
"target": "php",
"value": 41.0370454965
},
{
"source": "jquery",
"target": "php",
"value": 46.6190908982
},
{
"source": "javascript",
"target": "php",
"value": 47.3281575556
},
{
"source": "ajax",
"target": "php",
"value": 28.0106792566
},
{
"source": "html",
"target": "php",
"value": 45.6610408797
},
{
"source": "mysql",
"target": "php",
"value": 65.0702591241
},
{
"source": "html5",
"target": "php",
"value": 32.3505069192
},
{
"source": "codeigniter",
"target": "php",
"value": 37.4014964616
},
{
"source": "oracle",
"target": "plsql",
"value": 45.0615143391
},
{
"source": "sql",
"target": "plsql",
"value": 22.7174423875
},
{
"source": "mysql",
"target": "postgresql",
"value": 25.9099424888
},
{
"source": "redis",
"target": "postgresql",
"value": 26.2801817414
},
{
"source": "ruby-on-rails",
"target": "postgresql",
"value": 25.6901103291
},
{
"source": "mongodb",
"target": "postgresql",
"value": 22.8555570003
},
{
"source": "django",
"target": "postgresql",
"value": 22.4892526432
},
{
"source": "ruby",
"target": "postgresql",
"value": 21.7951750576
},
{
"source": "windows",
"target": "powershell",
"value": 20.2406906033
},
{
"source": "flask",
"target": "python",
"value": 25.2513718614
},
{
"source": "c++",
"target": "python",
"value": 24.3010456662
},
{
"source": "machine-learning",
"target": "python",
"value": 30.2707743674
},
{
"source": "django",
"target": "python",
"value": 49.9059429537
},
{
"source": "c",
"target": "python",
"value": 22.3204322539
},
{
"source": "r",
"target": "python",
"value": 28.5357478533
},
{
"source": "linux",
"target": "python",
"value": 21.170360444
},
{
"source": "c++",
"target": "qt",
"value": 30.1446600326
},
{
"source": "python",
"target": "r",
"value": 28.5357478533
},
{
"source": "matlab",
"target": "r",
"value": 20.0219326983
},
{
"source": "machine-learning",
"target": "r",
"value": 23.2186970397
},
{
"source": "reactjs",
"target": "react-native",
"value": 61.5310229725
},
{
"source": "redux",
"target": "react-native",
"value": 25.4805814765
},
{
"source": "node.js",
"target": "react-native",
"value": 22.1632503119
},
{
"source": "node.js",
"target": "reactjs",
"value": 55.192747552
},
{
"source": "sass",
"target": "reactjs",
"value": 24.9979588147
},
{
"source": "react-native",
"target": "reactjs",
"value": 61.5310229725
},
{
"source": "redux",
"target": "reactjs",
"value": 65.1298550597
},
{
"source": "angularjs",
"target": "reactjs",
"value": 31.6202023047
},
{
"source": "mongodb",
"target": "reactjs",
"value": 22.3209731893
},
{
"source": "express",
"target": "reactjs",
"value": 31.924272589
},
{
"source": "javascript",
"target": "reactjs",
"value": 33.5673591049
},
{
"source": "mongodb",
"target": "redis",
"value": 33.5547311288
},
{
"source": "nginx",
"target": "redis",
"value": 27.4731414069
},
{
"source": "elasticsearch",
"target": "redis",
"value": 29.3490986761
},
{
"source": "postgresql",
"target": "redis",
"value": 26.2801817414
},
{
"source": "reactjs",
"target": "redux",
"value": 65.1298550597
},
{
"source": "node.js",
"target": "redux",
"value": 23.4019232537
},
{
"source": "react-native",
"target": "redux",
"value": 25.4805814765
},
{
"source": "express",
"target": "redux",
"value": 21.5434584177
},
{
"source": "perl",
"target": "regex",
"value": 21.3640778862
},
{
"source": "spring",
"target": "rest",
"value": 26.1175986263
},
{
"source": "web-services",
"target": "rest",
"value": 33.6906690757
},
{
"source": "api",
"target": "rest",
"value": 22.1755891093
},
{
"source": "hibernate",
"target": "rest",
"value": 21.6466678778
},
{
"source": "json",
"target": "rest",
"value": 25.0494983961
},
{
"source": "postgresql",
"target": "ruby",
"value": 21.7951750576
},
{
"source": "ruby-on-rails",
"target": "ruby",
"value": 95.3613107122
},
{
"source": "postgresql",
"target": "ruby-on-rails",
"value": 25.6901103291
},
{
"source": "ruby",
"target": "ruby-on-rails",
"value": 95.3613107122
},
{
"source": "jquery",
"target": "sass",
"value": 24.6817281322
},
{
"source": "javascript",
"target": "sass",
"value": 23.7824698837
},
{
"source": "reactjs",
"target": "sass",
"value": 24.9979588147
},
{
"source": "html",
"target": "sass",
"value": 23.6395292355
},
{
"source": "html5",
"target": "sass",
"value": 32.0703766561
},
{
"source": "less",
"target": "sass",
"value": 60.545941128
},
{
"source": "angularjs",
"target": "sass",
"value": 20.4258784167
},
{
"source": "css",
"target": "sass",
"value": 40.9633612655
},
{
"source": "twitter-bootstrap",
"target": "sass",
"value": 20.1854880109
},
{
"source": "hadoop",
"target": "scala",
"value": 21.6259344622
},
{
"source": "haskell",
"target": "scala",
"value": 22.7574400098
},
{
"source": "apache-spark",
"target": "scala",
"value": 50.7918456342
},
{
"source": "testing",
"target": "selenium",
"value": 33.6859430952
},
{
"source": "bash",
"target": "shell",
"value": 24.7170655738
},
{
"source": "linux",
"target": "shell",
"value": 21.1317929174
},
{
"source": "web-services",
"target": "spring",
"value": 20.1656062969
},
{
"source": "spring-mvc",
"target": "spring",
"value": 63.3302173132
},
{
"source": "rest",
"target": "spring",
"value": 26.1175986263
},
{
"source": "spring-boot",
"target": "spring",
"value": 57.0403926567
},
{
"source": "maven",
"target": "spring",
"value": 39.5302298409
},
{
"source": "java-ee",
"target": "spring",
"value": 39.8121051485
},
{
"source": "hibernate",
"target": "spring",
"value": 103.2682844636
},
{
"source": "jsp",
"target": "spring",
"value": 30.6133398512
},
{
"source": "java",
"target": "spring",
"value": 43.9542592253
},
{
"source": "spring",
"target": "spring-boot",
"value": 57.0403926567
},
{
"source": "hibernate",
"target": "spring-boot",
"value": 30.2329037064
},
{
"source": "spring-mvc",
"target": "spring-boot",
"value": 60.6168262096
},
{
"source": "maven",
"target": "spring-mvc",
"value": 24.9338022599
},
{
"source": "java-ee",
"target": "spring-mvc",
"value": 27.9645918526
},
{
"source": "spring",
"target": "spring-mvc",
"value": 63.3302173132
},
{
"source": "jsp",
"target": "spring-mvc",
"value": 24.0644902519
},
{
"source": "spring-boot",
"target": "spring-mvc",
"value": 60.6168262096
},
{
"source": "hibernate",
"target": "spring-mvc",
"value": 64.1098982131
},
{
"source": "java",
"target": "spring-mvc",
"value": 25.0412148108
},
{
"source": "plsql",
"target": "sql",
"value": 22.7174423875
},
{
"source": "sql-server",
"target": "sql",
"value": 24.3547729178
},
{
"source": "c#",
"target": "sql",
"value": 25.613903617
},
{
"source": "oracle",
"target": "sql",
"value": 21.8276047647
},
{
"source": "asp.net",
"target": "sql",
"value": 21.6722646057
},
{
"source": "asp.net-web-api",
"target": "sql-server",
"value": 25.6764741822
},
{
"source": "wcf",
"target": "sql-server",
"value": 26.291466331
},
{
"source": "vb.net",
"target": "sql-server",
"value": 21.7888934428
},
{
"source": ".net",
"target": "sql-server",
"value": 32.3225242193
},
{
"source": "entity-framework",
"target": "sql-server",
"value": 32.6237790869
},
{
"source": "asp.net",
"target": "sql-server",
"value": 59.6732894869
},
{
"source": "linq",
"target": "sql-server",
"value": 20.4447921117
},
{
"source": "sql",
"target": "sql-server",
"value": 24.3547729178
},
{
"source": "c#",
"target": "sql-server",
"value": 45.9146512355
},
{
"source": "xcode",
"target": "swift",
"value": 48.620334867
},
{
"source": "iphone",
"target": "swift",
"value": 36.0233746732
},
{
"source": "objective-c",
"target": "swift",
"value": 79.0885357792
},
{
"source": "ios",
"target": "swift",
"value": 87.219642461
},
{
"source": "agile",
"target": "tdd",
"value": 37.1465899242
},
{
"source": "selenium",
"target": "testing",
"value": 33.6859430952
},
{
"source": "angularjs",
"target": "twitter-bootstrap",
"value": 24.1536858611
},
{
"source": "html5",
"target": "twitter-bootstrap",
"value": 26.2309833744
},
{
"source": "sass",
"target": "twitter-bootstrap",
"value": 20.1854880109
},
{
"source": "jquery",
"target": "twitter-bootstrap",
"value": 36.7919254982
},
{
"source": "javascript",
"target": "twitter-bootstrap",
"value": 20.2388230437
},
{
"source": "css",
"target": "twitter-bootstrap",
"value": 31.5640551026
},
{
"source": "jquery",
"target": "twitter-bootstrap-3",
"value": 21.1532432493
},
{
"source": "html5",
"target": "twitter-bootstrap-3",
"value": 22.1610364135
},
{
"source": "angular2",
"target": "typescript",
"value": 38.8799822292
},
{
"source": "angular",
"target": "typescript",
"value": 31.0364817839
},
{
"source": "linux",
"target": "ubuntu",
"value": 29.8943425853
},
{
"source": "c#",
"target": "unity3d",
"value": 25.0002334731
},
{
"source": "linux",
"target": "unix",
"value": 25.3574128742
},
{
"source": "asp.net",
"target": "vb.net",
"value": 23.7113462811
},
{
"source": "sql-server",
"target": "vb.net",
"value": 21.7888934428
},
{
"source": "c#",
"target": "vb.net",
"value": 25.1851359563
},
{
"source": "excel-vba",
"target": "vba",
"value": 49.6162172783
},
{
"source": "excel",
"target": "vba",
"value": 45.260749883
},
{
"source": "c#",
"target": "visual-studio",
"value": 27.7155434286
},
{
"source": "laravel",
"target": "vue.js",
"value": 28.799896655
},
{
"source": ".net",
"target": "wcf",
"value": 28.0744004276
},
{
"source": "entity-framework",
"target": "wcf",
"value": 32.8159516504
},
{
"source": "c#",
"target": "wcf",
"value": 29.2998800335
},
{
"source": "sql-server",
"target": "wcf",
"value": 26.291466331
},
{
"source": "wpf",
"target": "wcf",
"value": 53.1799034554
},
{
"source": "linq",
"target": "wcf",
"value": 34.5870926587
},
{
"source": "asp.net",
"target": "wcf",
"value": 40.9514217261
},
{
"source": "asp.net-web-api",
"target": "wcf",
"value": 28.356535431
},
{
"source": "rest",
"target": "web-services",
"value": 33.6906690757
},
{
"source": "hibernate",
"target": "web-services",
"value": 21.2109569252
},
{
"source": "spring",
"target": "web-services",
"value": 20.1656062969
},
{
"source": "powershell",
"target": "windows",
"value": 20.2406906033
},
{
"source": "linux",
"target": "windows",
"value": 29.9454007738
},
{
"source": "osx",
"target": "windows",
"value": 20.8602467765
},
{
"source": "php",
"target": "wordpress",
"value": 41.0370454965
},
{
"source": "html5",
"target": "wordpress",
"value": 22.216440754
},
{
"source": "css",
"target": "wordpress",
"value": 31.2648246688
},
{
"source": "codeigniter",
"target": "wordpress",
"value": 25.1331307657
},
{
"source": "drupal",
"target": "wordpress",
"value": 24.9192961822
},
{
"source": "jquery",
"target": "wordpress",
"value": 28.8701705999
},
{
"source": "linq",
"target": "wpf",
"value": 26.468391556
},
{
"source": "wcf",
"target": "wpf",
"value": 53.1799034554
},
{
"source": "entity-framework",
"target": "wpf",
"value": 24.2282018567
},
{
"source": "c#",
"target": "wpf",
"value": 38.9574921757
},
{
"source": "asp.net",
"target": "wpf",
"value": 28.1590233387
},
{
"source": ".net",
"target": "wpf",
"value": 32.3509252201
},
{
"source": "c#",
"target": "xamarin",
"value": 24.6731475487
},
{
"source": "objective-c",
"target": "xcode",
"value": 43.4188251171
},
{
"source": "swift",
"target": "xcode",
"value": 48.620334867
},
{
"source": "iphone",
"target": "xcode",
"value": 34.7128650712
},
{
"source": "ios",
"target": "xcode",
"value": 46.3650907739
},
{
"source": "json",
"target": "xml",
"value": 42.7216684588
}
]
}